OFFICIAL TOP UP CODES OF DIFFERENT CODES
How do you feel when you can recharge your mobile phone within some seconds without even living a spot? sure! it's gonna be stress free.
purchasing direct airtime has become the new oddity between banks and mobile service providers to ease their customers of the stress of walking miles in the name of going to recharge, surfing the internet before you could top up.
Here are the top up codes for different banks:
GUARANTEE TRUST BANK(GTB) TOP UP CODE:
step1: dial *737*AMOUNT#
*737*500#
NOTE: your phone number must be attached to your bank account before it can be used. thus, to use it you have to walk into any gtbank of around you to include your phone number
STERLING BANK NIGERIA TOP UP CODE:
step1: you register by dialling *822*1*amount#
step2: to recharge dial *822*amount#
e.g *822*500#
FIRSTBANK NIGERIA(FBN) TOP UP CODE:
step1: dial from your phone
*894*AMOUNT# e.g. *894*1000# for N1000 Naira recharge. Maximum per day is N3000.
ACCESS BANK NIGERIA TOP UP CODE:
dial *901*amount#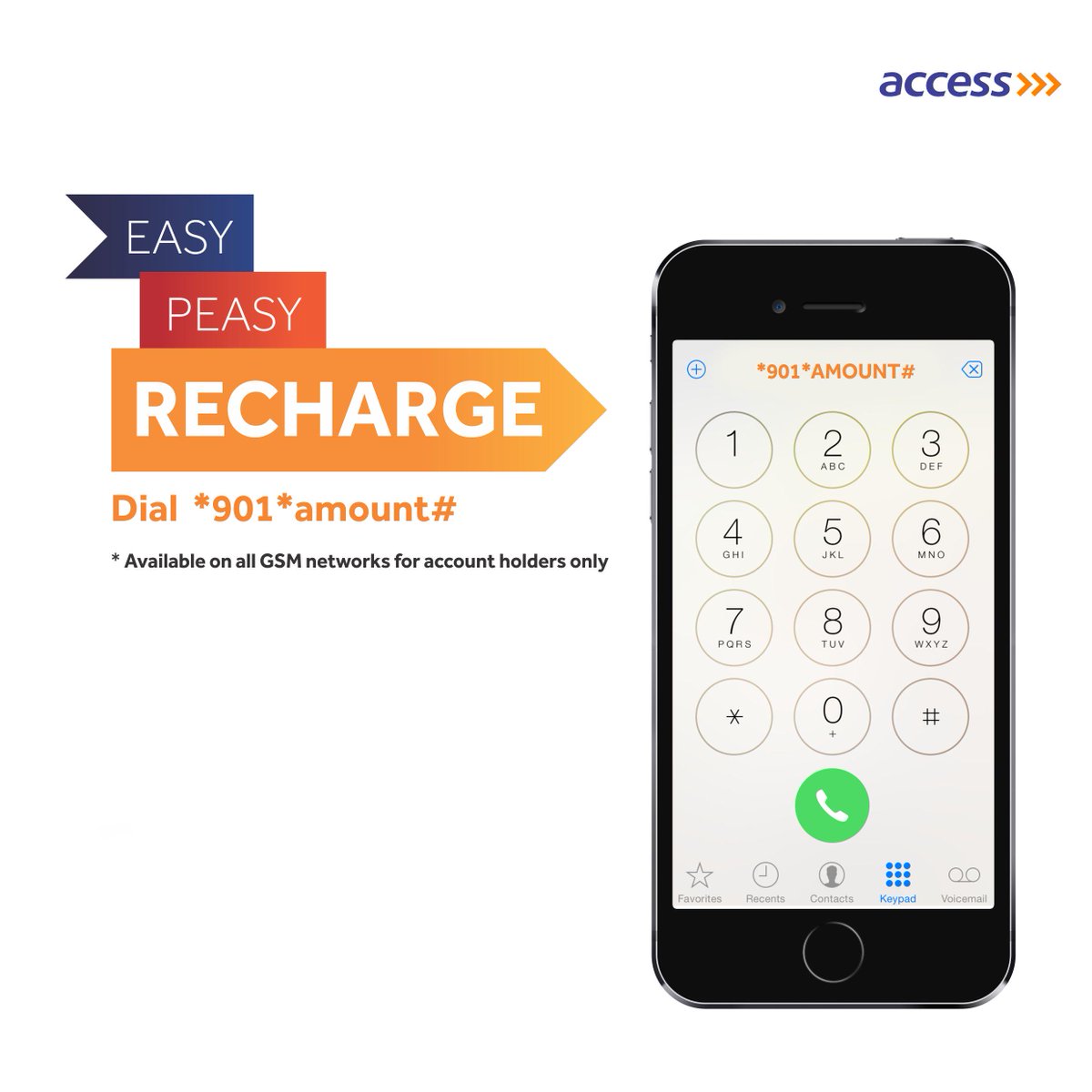 ZENITH BANK TOP UP CODE: dial *966*amount# or *302*amnt# (for mtn
users)
Eco Bank Top up Code:

dial *326# (to change your old pin to a new one)*326*amount#
Fidelity:*770*amount#
FCMB:*389*214*amount#
Heritage bank:*322*030*amount#
keystone:*322*082*amount#
Sky bank:*389*076*1*amount#
Stanbic IBTC: *909*amount#
Sterling:*822*amount#
UBA:*389*033*1*amount#
Unity bank:*322*215*amount#
Diamond bank(yellow acct. only):*710*555*
WEMA BANK:

To transfer money from Wema Bank Account to Banks in Nigeria, Dial

*945*beneficiary accountnumber*amount#
WEMA Bank USSD and how to use it
Buy Airtime with Wema Bank code: *945*phone Number*amount#

Send Money: *945*beneficiary accountnumber*amount#

Check Wema Bank account Balance: *945*0#

Change PIN: *945*00#

Get your Wema Bank Account Number: *945*000#

Open Wema Bank Account: *945*1#
Union Bank Code for Transfer and others:
Register your mobile number with
*
389*032#
and follow the on screen instructions.
Check union bank account with this by Texting BAL to 20123
phone no*amount*pin# Mtn subscribers only.
Get your BVN status, dial *565*0#.
Free to Share with friends